شيامن، الصين، 5 نوفمبر 2020 /PRNewswire/ — أعلنت شركة سنابيو (SANANBIO)، إحدى الشركات الرائدة في توفير حلول المزارع العمودية، عن توفر مزرعتها المتنقلة التي يتحكم فيها المناخ للمزارعين على مستوى العالم.
 صرح زهان تشو، الشريك المؤسس والرئيس التنفيذي لشركة سنابيو: "3,300 – 4,400 رطل من الخيار، أو 7,700 رطل من الجرجير، أو 8,000 رطل من الخس؛ هي العوائد السنوية المؤكدة التي نثق في الإعلان عنها. ونحن ننتج مزارع جاهزة للاستخدام ومتنقلة". تتكيف هذه المزارع مع أي مناخ بفضل نظام العزل الحراري مع الموصلية الحرارية التي تقل عن 0.024 واط / (م كلفن). تعمل إحدى المزارع المتنقلة كالمعتاد في جو بارد بدرجة -40 درجة فهرنهايت في شمال الصين، مما يدعم المجتمعات المحلية بمنتجات محلية منخفضة البصمة الكربونية. كما أنه من الصعب أن نجد أن طعامنا يسافر 1,500 ميل في المتوسط قبل أن يصل إلى طبقنا. ولا يمكن أن يكون ثاني أكسيد الكربون (CO2 ) المتولد والمغذيات المفقودة أثناء النقل مفيدة لكوكب الأرض أو البشر. هذا هو السبب وراء هذه الدعوة إلى الطعام المحلي. كما أضاف زهان قائلًا: "المزرعة الجاهزة للاستخدام هي الحل الذي نقدمه للمناطق التي تكون فيها البيئة قاسية للغاية لدعم الإنتاج الزراعي المستقر".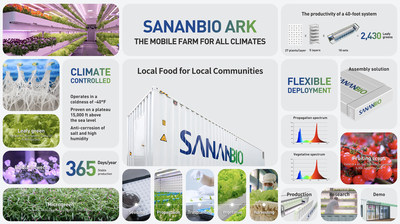 ومن أجل تبسيط تجربة الزراعة، يبسط المصمم إجراءات بدء التشغيل دفعة واحدة وذلك من خلال: تشغيلها بموصل في الخارج ومن ثم حتى المبتدئين في الزراعة المائية يتم إعدادهم للنمو. وعلاوة على ذلك، يمكن للمزارعين مراقبة مقاييس المزرعة والتحكم فيها ببساطة عن طريق تحريك أطراف الأصابع على هواتفهم.
واطرد زهان في حديثه قائلًا: "من خلال تبسيط الزراعة الحديثة، نقدم المزيد من فرص الزراعة للأطفال وسكان المدن. كما أننا نمتلك مزرعة متنقلة منتشرة في إحدى الضواحي الماليزية حيث يتردد الأطفال من الحي على المزرعة للحصول على خبرة عملية في الزراعة المائية. إنه وقت الترابط المثالي حينما تذهب العائلات إلى هناك لاختيار مكونات السلطة الخاصة بهم. بصفتنا شركة فوتوبيوتيك (Photobiotech)، فإننا نربي جيلًا جديدًا من المزارعين ".
 لمزيد من المعلومات حول المزرعة المتنقلة، يرجى زيارة www.sananbio.com/ark.
  نبذة عن سنابيو
 سنابيو هو مشروع مشترك بين سنان للإلكترونيات الضوئية (Sanan Optoelectronics)، إحدى أكبر الشركات المصنعة لمصابيح LED في العالم، ومعهد أبحاث علم النبات التابع للأكاديمية الصينية للعلوم (Institute of Botany of Chinese Academy of Sciences)، وهو معهد رائد في علوم النبات. تُعد شركة سنابيو، والتي تتألف من خبراء LED وعلماء النبات، قادرة على توفير حلول زراعة خاضعة للرقابة البيئية (CEA) بسيطة للمزارعين على مستوى العالم. هذا النظام الزراعي، الحاصلة على جائزة ريد دوت (RADIX)، اُعتمدت على نطاق واسع من قبل المزارعين في أكثر من عشرين دولة.
 الصورة – https://mma.prnewswire.com/media/1326705/KV2_EN.jpg